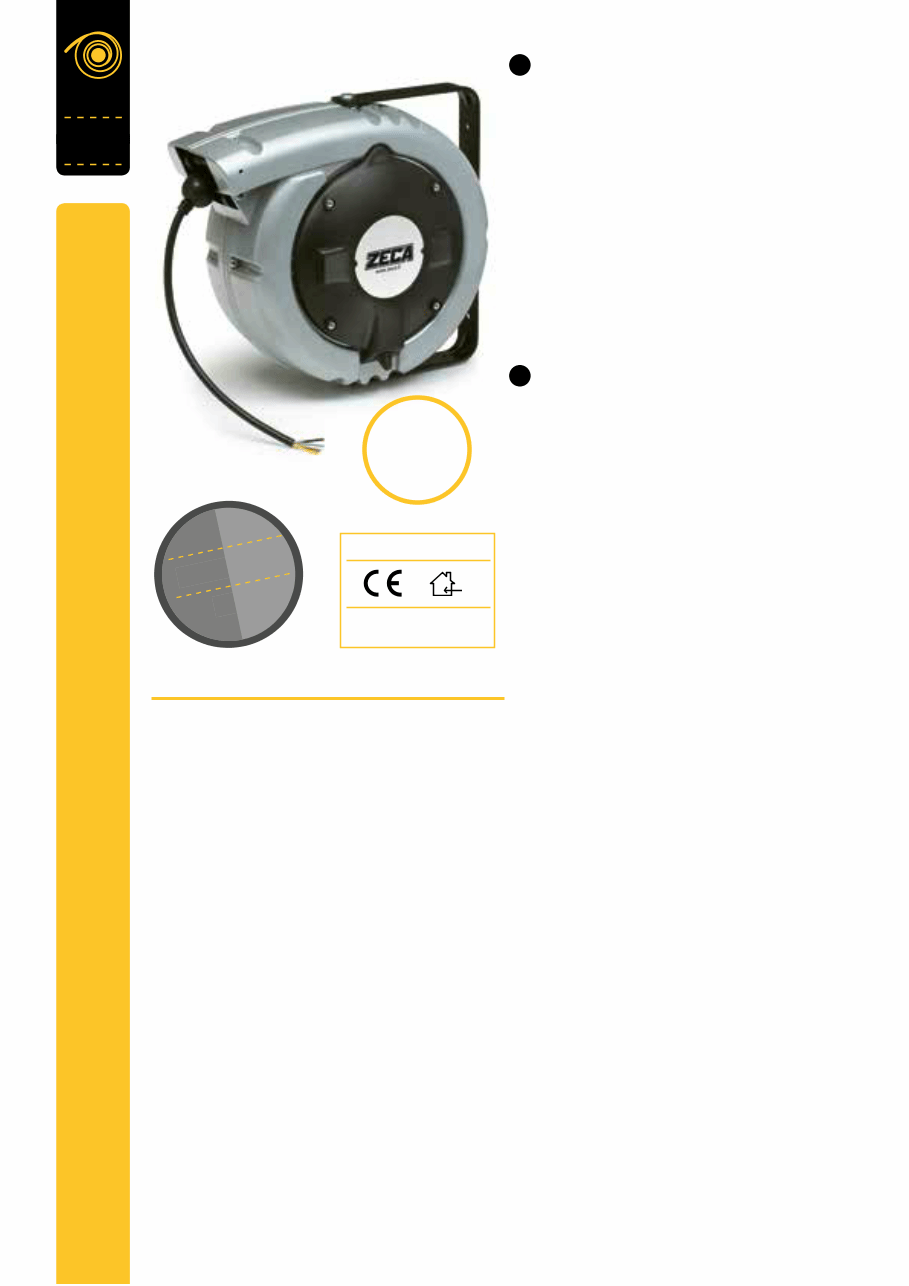 ENROULEURS DE CÂBLE
Série
6000 PRC
REEL FEATURES
· Die-cast aluminium case
· Cable roller guide
· Ratchet stop device every 50 cm.
All cable reels are supplied with
predisposition for cable-stop device off.
It can be easily inserted.
· Double earth contact
· Collector insulating power 2,5 KV.
· Brass-rings collector and special brushes
with minimum impedance drop
· Slipring with brass rings and brushes
· Protection degree IP42
· Working temperature -5°C/+50°C
· Delivered without cable at feeding side
· Available both with PVC cable and rubber
cable.
ENG
CARACTERISTIQUES DE L'ENROULEUR
· Dispositif guide-câble à rouleaux
· Cliquet d'ârret applicable tous les 50 cm.
Tous les enrouleurs sont livrés avec la
prédisposition du dispositif de blocage-
câble non inséré.
Facile à insérer.
· Double contact de terre
· Collecteur à bagues en laiton et brosses
particulières
· Tension d'isolation du collecteur 2,5 KV
· Degrée de protection IP42
· Température d'utilisation -5°C/+50°C
· Livrés sans cable coté alimentation
· Disponibles avec cable PVC et en caoutchouc
FRA
ART. 953
Roller cable-guide for cable reels PR
series.
Essential for ceiling applications.
Bouche guide-c
â
ble à rouleaux pour enrouleurs
série PR. Indispensable pour application
au
plafond.
ART. 6100
PRC to PRL conversion kit.
Kit de transformation de PRC en PRL.
ART. 949/PR
Optional device to make the bracket fastened.
Dispositif option
ne
l pour rendre fixe le support
de fixation.
OPTIONNEL
ENROULEURS
EN 61242
2014/35/UE 2006/42/CE
EN 60335-1
2011/65/UE
IP42
Boîtier
ALUMINIUM