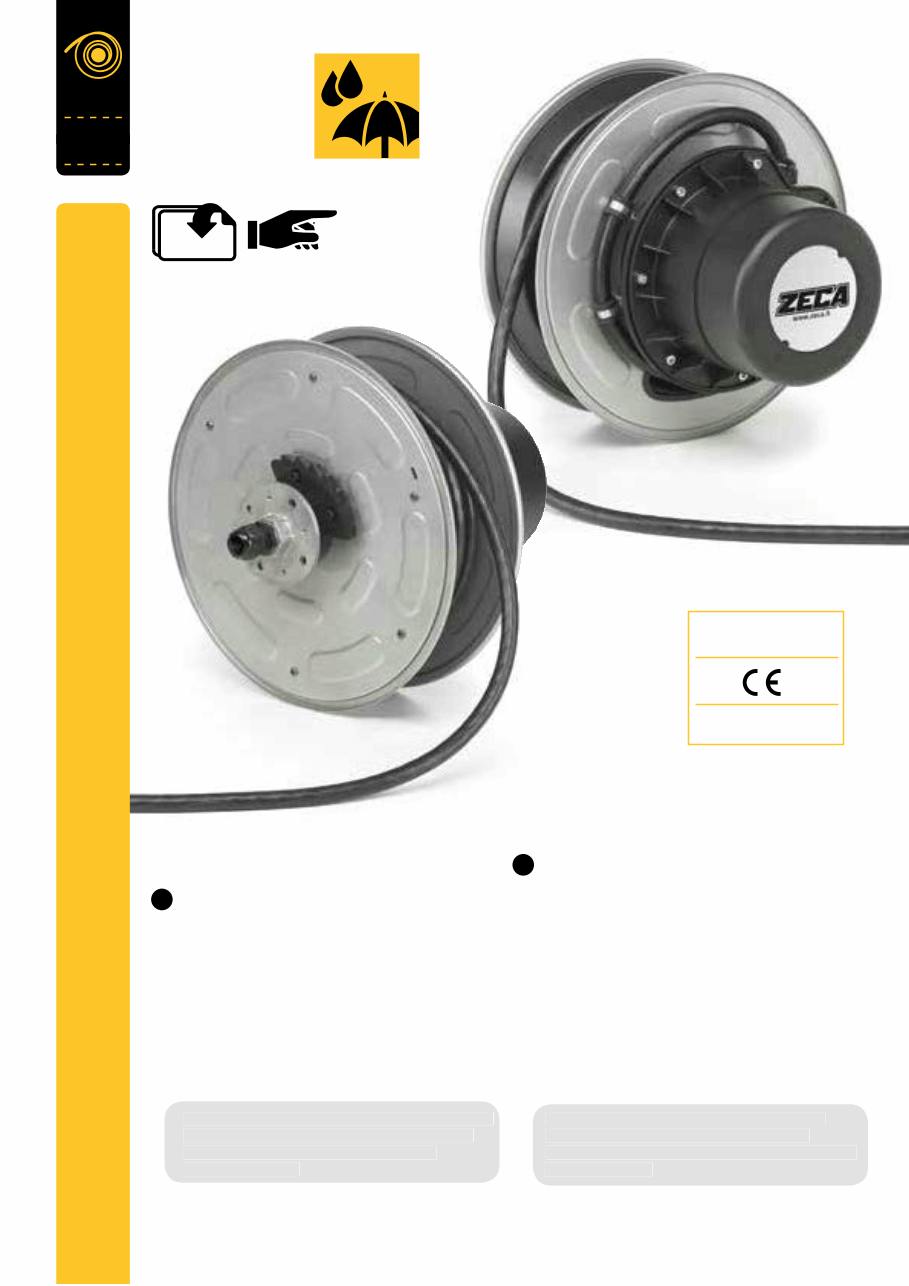 ENROULEURS DE CÂBLE
Série
1400
EN 61242
2014/35/UE 2006/42/CE
EN 61316
EN 60335-1
2011/65/UE
REEL FEATURES
· Polymer-painted steel case;
· Side fastening aluminium bracket;
· Collectors with power: 20-50-100 A;
· Steel springs suitable to grant a long life;
· Protection degree IP65;
·
Delivered with cable H05VV-F
and H07RN-F or without cable.
· Suitable to recoil cables from 1 to 12 conductors
· Working temperature: -5°C/+50°C;
· Max. recoiling speed: 30 m./minute;
· Collector insulating power 2,5 KV.
ENG
CARACTERISTIQUES DE L'ENROULEUR
· Boîtier en acier verni et polymère
· Bride lat
é
rale de fixation en aluminium
· Collecteurs puissance: 20-50-100 A
· Ressort en acier pour une longue
durée
· Degré de protection IP65
· Livré complet de c
â
ble
s
H05VV-F,
H07RN-F ou sans câble
· Convenable pour enrouler câbles
de 1 à 12 conducteurs
· Température d'utilisation: -5°C/+50°C
· Maximum de vitesse d'enroulement:
30 m./minute;
· Tension d'isolation du collecteur 2,5 KV.
FRA
ENROULEURS
Degré de
protection
IP
65
DATASHEET GEDO.FR
DOWNLOAD
Those r
Those reels ar
eels are usuall
e usually supplied without br
y supplied without brack
acket,
et,
without r
without roll
oller c
er cabl
able guide and without r
e guide and without rat
atchet.
chet.
Those articl
Those articles c
es can be bought separ
an be bought separat
atel
ely,
y.
Ces enrouleurs sont fournis sans bride, sans
bouche guide câble et sans cliquet d'arrêt.
Ces accessoires peuvent être achetés séparément.